ORDERING SCANS
I get quite a few emails enquiring about the availability of scans of the images on this website.
These are perfect to turn into framed photos or just as part of family or local history interest.
You can order a scan of any postcard image for £5.00 each with the watermark logo removed.
The standard size of scanned images are 600dpi which is approx A4 paper size.
You can print them to any size you want. I can also do up to 1200dpi on request.
To order a scan just make a note of the image code number and the image title.
You can see the code number underneath each thumbnail image.
The example below is Eccles 2 - The Old Cake Shop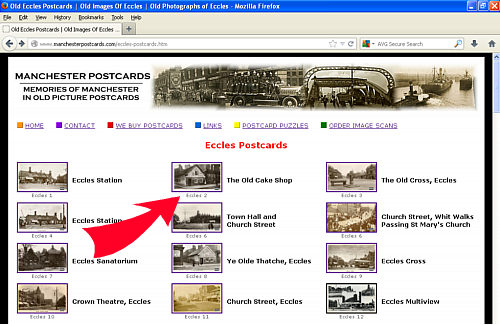 When you have made a note of the code (or codes) just email me
I will contact you back with a Paypal invoice or you can pay via cheque.
The scans will be sent to your email address within 24-hours if paying with Paypal.
Any questions please feel free to contact me.
Copyright © 2017 All Rights Reserved
www.manchesterpostcards.com

No Text or Images May Be Copied From This Website
Scans of Any Image Can Be Ordered